Nature Tours
Bask in the ambience of Jamaica's nature and authentic culture.
Jamaica Nature and Cultural Tours
Group Rate
| #Registrants | Rate/Person($) |
| --- | --- |
| 10 | 1,175.00 |
8-Day Tour Featuring Natural Attractions
TVT Trip Type: GROUP TOUR
Cost: $1,291.00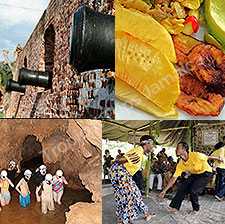 Journey through Jamaica's culture! Learn the authentic reggae culture and bask in the ambience of nature on the exciting, locally-guided Jamaica Nature and Cultural Tours.
Places Visited: Kingston, Blue & John Crow Mountains National Park, South Coast, a Maroon Village, Portland, Reggae Club, and Port Antonio Jamaica

2018 Tour Dates:
January 7th - 14th, 2018
April 22nd - 29th, 2018
Overview of Jamaica Nature and Cultural Tours
---
Discover the beauty of nature and an extensive cultural experience with this eco-focused adventure throughout Jamaica. Join other like-minded adventure travellers and learn about Jamaica's rich history, diverse culture, and take in some of the best natural attractions in the entire Caribbean. Whether it's the amazing culture, the surreal beauty of nature, or meeting new travel friends, the Jamaica Nature and Cultural Tours will provide an unforgettable adventure.
All travellers are welcome - whether you sign up as a solo traveller, couple, group of friends, family members, or corporate group. We will do all the travel arrangements, including roommate matching for solo travellers.
This is a one-of-a-kind group adventure in Jamaica, packed with unique culture, breathtaking landscapes, amazing history, incredible food and the opportunity to meet friendships that will last a lifetime.
Tour Itinerary B: Breakast | L: Lunch | D: Dinner
Nature & Cultural Tour Itinerary:
Day 1: Arrive in Kingston. PM Group Orientation
Day 2: Local Cultural Tour (B)
Day 3: Blue Mountain Scenic Tour (B, L)
Day 4: South Coast Nature and Cultural Exploration (B, L)
Day 5: Visit Maroon Village (B, L)
Day 6: Maroon Village and Afternoon Travel to Portland (B)
Day 7: River and Spring Day Tour with Optional Night Reggae Experience
Day 8: Jamaica Nature and Cultural Tour Ends (B)
Detailed Nature & Cultural Tour Itinerary:
Day 1: Arrive in Kingston, Jamaica. Evening Group Orientation (D)
Welcome to Jamaica! If you purchased airport transfer, your guide/driver will be waiting for you at Norman Manley International Airport arrivals to transfer you to your Kingston accommodation. Airport arrival instructions will be emailed to you 3 weeks prior to your trip.
The evening group orientation begins with a welcome introduction and a summary of our seven days adventure. Here you will meet your Travel Companion (Jamaica tour guide) as well as other group members whom you will be touring with. The remainder of the evening is yours to relax and enjoy the outdoor pool at your accommodation.
Overnight in Kingston, Jamaica.
Day 2: Local Cultural Tour (B)
After breakfast, your tour guide will take you on a visit to local cultural sites in and around Kingston. Visits can include a local school, park, museum, monument, or other famous attractions. The goal of the tour is to get travellers exposed to a rich piece of Jamaica's culture that most tourists don't get a chance to experience.
Overnight in Kingston, Jamaica.
Day 3: Blue & John Crow Mountains National Park (B, L)
Getting an early start to the day, your group will drive an hour to the UNESCO World Heritage site, Blue & John Crow Mountains National Park. Here you'll view an abundance of diverse flora and fauna, visit a beautiful waterfall, and explore the mountain rainforests. The Park is famous for its huge variety of birdlife, containing almost 200 different species. Your guide will know the best places to find tropical birds, especially Jamaica's National Bird –the doctor bird or swallow tail humming bird - found only in Jamaica.
A coffee farm visit will be a part of this exciting tour. The famous Blue Mountain Coffee is pure estate origin coffee. It's produced in a specified zone 3,000 feet above sea level in cool misty air that makes for its authenticity. The group will see how coffee is produced and will savour a delicious cup at the end of the tour. Don't forget to purchase some coffee to take home for family and friends, as it may very well be one of the best coffees in the world. In the afternoon, we'll stop for a succulent Jamaican lunch and a scenic drive back to Kingston.
This is an amazing experience and has always been a tourist favorite. Make sure to bring comfortable walking shoes and a jacket, as it can get cold quickly.
Overnight in Kingston, Jamaica.
Day 4: South Coast & The Cockpit Country (L)
Today you will go on an exciting nature excursion throughout the South Coast to visit the last remaining wilderness in Jamaica. Take a walk through Maroon history and learn how they formed a free community in the Peace Cave, known as the place where the peace treaty was signed between Cudjoe and the British to establish the first African State in Jamaica.
There are 1,500 different species of flora and fauna that exist in the region. Experience the ultimate sightseeing tour as you hike through the natural wilderness. After lunch, you will visit a cave where the stalactites and stalagmites are well pronounced and you can even enjoy a swim in the pool on the inside of the cave.
Finish the nature sightseeing adventure with a relaxing swim in the river.
Overnight in Kingston, Jamaica.
Day 5: Visit a Maroon Village (B, L, D)
In the morning, you'll travel deep into the Blue Mountains of Jamaica (eastern countryside) to the John Crow Mountain, where you'll visit a culture-rich Maroon village. You'll see how Maroon people live day-by-day, how they communicate with the Abeng, learn about the Maroon culture, and what makes the Maroons unique in Jamaica. The Maroons are descendants from West African slaves brought to Jamaica by the Spanish. They escaped slavery and fled to the isolated mountains where they established their autonomy. They established their freedom approximately 200 years before Jamaica's independence and over 50 years before British abolish slave trade. (Breakfast, lunch and dinner included).
Overnight in Maroon Village.
Day 6: Maroon Village & Afternoon Travel to Portland (B)
After breakfast, we head east for an afternoon history and sightseeing tour in Jamaica's nature paradise, Port Antonio. Visits include the Musgrave Market, Banana Port of the Errol Flynn Marina, and Titchfield Peninsula.
In route to the accommodation, we will stop for a history lesson in Jamaican jerk. Next to reggae music, it's Jamaica's most famous export product. The group will enjoy afternoon lunch at the famous Boston Jerk, and will finish the evening relaxing and socializing with your travel mates.
Overnight in Portland, Jamaica.
Day 7: River and Spring Day Tour with Optional Reggae Night Experience
Today will be your chance to participate in one of the most exciting activities in Jamaica. The river rafting is done on the Rio Grande starting in the community of Berridale, about thirty minutes from Port Antonio. Here you'll relax on a bamboo raft while your Captain rows through rapids down the river.
Next stop is the World Famous Blue Lagoon, Jamaica's largest spring fed lagoon that sits on a deep extinct Volcano.
The day ends with a scenic drive through nature back to the capital city.
In the evening, join your fellow travellers for the ultimate Reggae music experience - a Reggae revival session in Kingston. Experience live reggae music from some of the best musicians in Jamaica. The reggae night is the perfect way to end the cultural getaway.
Overnight in Kingston, Jamaica.
Day 8: Jamaica Nature & Cultural Tour Ends (B)
The Jamaica Nature and Cultural Tour ends at the accommodation shortly after breakfast, where you will bid farewell (or until next time) to your fellow travellers. If you purchased airport transfers through us, you are picked up and transferred to catch your flight home at the Norman Manley International Airport.
Important Information About the Jamaica Nature and Cultural Tours
---
Tour Inclusions
7 nights hotel, lodges and other accommodation
Tropical Video Tours Tour Companion
Tours and admission fees as mentioned above
All Transportation on tours
Local cultural visits
Maroon Village visit
Meals as specified in itinerary
National Park fees
Tour Exclusions
Airfare to Jamaica
Airport tax
Airport transfers
Travel medical insurance
Optional tours and activities
Meals and beverages not mentioned in tour itinerary
Personal expenses
Tips
Trip Duration
Group Leader
Tour Companion/Escort
Local Tour Guides
Accommodations Included
7 nights local and mid-range hotels
Transportation Included
Meals Included
All meals as specified in itinerary
Travel Budget: Depending on spending habits, $150-$300 per person for meals, beverages and personal expenses
Additional Information: This trip is open to anyone to join. It is a Tropical Trips Jamaica original small group trip.
Cancellation Policy: Please see our booking terms and conditions for more information.
Event Date
Register
04-22-2018 7:00 am