Ecotourism Adventures
JOIN THE ECO ADVENTURE TOURS IN JAMAICA
Jamaica Eco and Adventure Tours
Group Rate
| #Registrants | Rate/Person(USD) |
| --- | --- |
| 5 | 1,350.00 |
| 10 | 1,250.00 |
8-Day Ecotourism Adventure
TVT Trip Type: GROUP TOUR | ADVENTURE TOUR | ECOTOURISM
Tour Package Cost: $1,499.00
Travel Destinations: Kingston, Blue Mountain, Ocho Rios, Dunn's River Falls, Negril, and Fairy Hill Jamaica
When: Two Group Ecotourism Trips Each Year in January and July
2018 Tour Dates:
January 14 - 21, 2018
July 15 - 22, 2018
Overview of the Jamaica Eco Adventure Tours
---
Join this exciting and unique ecotourism adventure to the beautiful island of Jamaica. The eco adventure tours offer eight days of non-stop adventure. You owe a trip like this to yourself!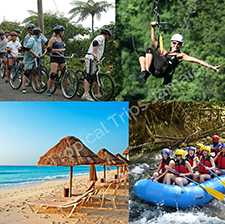 Join the group and climb up 180-feet waterfalls, cycle down the mystical countryside, swim in natural springs, zipline across rainforests, whitewater raft down various rapids, take an exciting ATV tour through the Jungle, see diverse flora and fauna, and bask in miles of white sand beaches. Most of all, experience nature in its purest and finest form.
The Jamaica Eco and Adventure Tours end with a relaxing day on Negril beach - famous for its seven miles of white sand crystal clear water and beautiful sunsets. Here you can choose to relax at a beach bar, snorkel, scuba dive, horseback ride, or simply soak up the sun on the beach. Regardless of which activities or adventures you choose, life is good in Jamaica!
All travellers and adventurers are welcome - whether you sign up as a solo traveller, as a couple, with friends, family members, or a large group. We will handle all of the travel arrangements once you're in Jamaica, including roommate-matching for solo travellers.
This is a one-of-a-kind group adventure that's packed with experiences you'll never forget. The Jamaica ecotourism adventures provide our guests with lasting memories and, of course, the opportunity to meet friendships that last a lifetime. In addition, we made sure to offer unrivaled pricing to make the adventure tours affordable and convenient for all travellers.
PLEASE NOTE: While this trip is adventurous and full of non-stop action, the adventure tour is rated for both beginners and those more experienced. If any activity is outside of your comfort zone, you may opt to either swap for a different activity or completely remove it.
Eco and Adventure Tour Highlights
---
Climb waterfalls
Zipline across the Ocho Rios Rainforest
Take a dip in natural blue springs
Cycling along the mountainside
Relax on Negril's white sand beach
Sunset on the West Coast
(OPTIONAL) whitewater rafting or ATV tour
Trip Itinerary B: Breakast | L: Lunch | D: Dinner
Eco and Adventure Tour Itinerary:
Day 1: Arrive Kingston. PM Group Orientation (D)
Day 2: Blue Mountain Bicycle Adventure (B, L)
Day 3: Ocho Rios – Ziplining Tour (B)
Day 4: Optional Activity Day (B)
Day 5: Blue Hole Adventure Tour (B)
Day 6: Free Day at Beach (B)
Day 7: Free Morning at Beach & Afternoon Transfer to Kingston (B)
Day 8: Jamaica Eco and Adventure Tour Ends (B)

Detailed Eco and Adventure Tour Itinerary:
Day 1: Arrive in Kingston Jamaica (D)
Arrive in Kingston, Jamaica at the Norman Manley International Airport. If you purchased airport transfer, your tour guide/driver will be waiting for you at arrivals to transfer you to your Kingston hotel accommodation.
The evening group orientation begins with a welcome introduction and a summary of our eight days of ecotourism adventure. Here you will meet your Travel Companion (adventure tour guide) as well as the other group members whom you will be touring Jamaica with.
Overnight in Kingston, Jamaica.
Day 2: Blue Mountain Bicycle Adventure (B, L)
Today you will take a scenic ride through Jamaica's lush countryside to visit the Blue and John Crow Mountains, a UNESCO World Heritage Site and home to the sixth highest peak in the Caribbean. Your Tour Companion will accompany you on this trip as well as a local tour guide from the Bicycle Club. The area boasts very spectacular views, and diverse flora and fauna not seen anywhere else in the world.
Enjoy an exhilarating downhill bike ride through the Blue Mountains. Stops along the way can include a local Jamaican school, a cool and refreshing waterfall, and a coffee farm to enjoy what some say is the best tasting coffee in the world - Blue Mountain Coffee. This excursion will show you the surreal beauty of Jamaica.
Overnight in Kingston, Jamaica.
Day 3: Ocho Rios Ziplining & Waterfalls Tour (B)
Getting an early start to the day, we drive to the North Coast of Jamaica and pass through small towns to the lush rainforest parish of Ocho Rios. On arrival, we will head out for a ziplining adventure. Just imagine yourself flying over a tropical rainforest on an exhilarating canopy zipline course! In the afternoon, we'll enjoy a tasty lunch before heading to the famous Dunn's River falls for more ecotourism adventure. Climb the cascading waterfalls, and relax along the beautiful beach afterwards. There's no doubt that you and your group will have a great day on the Eco and Adventure Tours!
Overnight in Ocho Rios, Jamaica.
Day 4: Optional Activity Day (B)
Today is a free day to spend as you wish, or take part in an optional whitewater rafting or ATV tour.
On the ATV Tour, you will navigate through the beautiful and rugged terrain of Ocho Rios. The tour offers a great opportunity to go sightseeing in Jamaica - passing through farmland, the scenic countryside, and the beach. Release the adventure in you as you explore the Jamaica land that isn't known to many.
The Whitewater Rafting Tour is located in Fairy Hills, approximately 30 minutes away from Ocho Rios. You'll begin the tour with a short hike that will take you to your rafting starting point. Here you will ride down Class 1-2 rapids and feel the excitement as you travel downstream.
Overnight in Ocho Rios, Jamaica.
Day 5: Blue Hole Adventure Tour (B)
In the morning, we'll head out on the ultimate waterfall adventure. The group will have an amazing few hours in the beautiful, blue and natural spring water. The local tour guides will help the group navigate through the forest to the Blue Hole waterfall. After the waterfall adventure, we will enjoy a well-deserved Jamaican lunch. In the afternoon, the group will travel to Negril Beach - a charming village on the west coast of Jamaica. Relax at one of the beach side bars, grab a bite to eat, have a cold Red Stripe, socialize with your fellow group members, listen to the waves crash along the shore, and watch the breathtaking sunset over the Caribbean Sea.
Overnight in Negril, Jamaica.
Day 6: Free Day at Negril Beach (B)
Today is a free beach day in Negril, Jamaica. Join a sea kayaking tour, a glass bottom boat adventure, rent a ski boat, or simply relax at the beach. Regardless, life is good on Negril Beach!
Overnight in Negril, Jamaica.
Day 7: Free Morning at Negril Beach & Afternoon Transfer to Kingston (B)
Today we have a free morning to spend at the beach. In the afternoon, we travel to Kingston to enjoy one last night with our new found club members before catching our flights home the following morning.
Overnight in Kingston, Jamaica.
Day 8: Jamaica Eco and Adventure Tour Ends (B)
The Jamaica ecotourism adventure ends shortly after breakfast. If you purchased airport transfers through us, you will be picked up at your appointed time and transferred to the Norman Manley International Airport.
Important Information About Jamaica Ecotourism Adventures
---
Tour Inclusions
Tropical Video Tours Tour Companion
Tours and admission fees as mentioned above
Comfortable accommodation as specified
All Transportation on tours
Meals as specified in itinerary
Tour Exclusions
Airfare to Jamaica
Airport tax
Airport transfers
Optional tours and activities
Meals and beverages not mentioned in itinerary
Personal expenses
Tips for local tour guides
Minimum Group Size
Trip Duration
Adventure Tour Guide
Group Leader
Tour Companion
Local experts for select tours
Accommodations Included
8 Days, 7 Nights accommodations at comfortable, local and mid-range hotels
Transportation Included
Meals Included
Meals as indicated in the tour itinerary
Travel Budget: Depending on spending habits, $150-$300 per person for meals, beverages and personal expenses
Additional Information: This trip is open for anyone to join. It is a Tropical Trips Jamaica original small group trip.
Cancellation Policy: Please see our booking terms and conditions for more information.
Event Date
Register
07-15-2018 7:00 am